September turned 1 on the 23rd. She's beautiful and so big now. Things about her are so not baby-like anymore. She's definitely a toddler. But beyond that, she's becoming this little kid, this little person filled with her own wants and she's making them known. It's challenging and I'm trying very hard to keep up with her pace.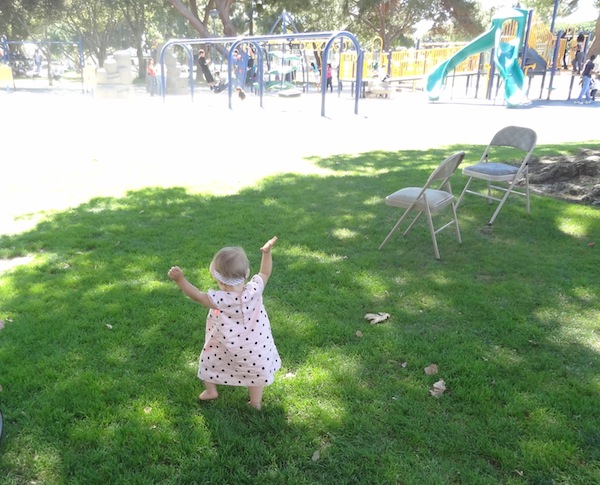 Still, her birthday party was fun and lots of people came to celebrate. We ate tons of food and watched her delicately pick at a giant cupcake. But while all of the festivities were going on, I couldn't help but think how different our lives are now than they were a year before. Yes, a year ago today my husband and I had a week old baby and we were completely overwhelmed. I'd cry at the drop of a hat and felt like I just couldn't do this. How on earth are you supposed to take care of another human being? How could I ever live up to this challenge?
It was rough.
At the party, my eyes wandered over those in attendance. So many people came to celebrate with us. So many people that weren't in our lives this time last year. We were convinced we had to do everything alone. We didn't ask for help. It was just Matt and I at home, struggling. But then, as the baby blues wore away, I found strength. And I asked for help. And you know what? People helped! People helped all the time and were more than willing to do so. When you're depressed, it's hard to comprehend how people can care about you. When you don't care about yourself, it's hard to see how you're worth a damn.
More people are in our lives now than ever before. We are enriched by new friendships. We are strengthened by the commonality, the middle ground, that parenthood brings to those from all walks of life.
We sang happy birthday and opened presents and donned party hats in celebration of a little girl's birthday. But inside I was rejoicing in the knowledge that we were walking with clear minds and open hearts for the first time in much too long.